Sincerus Certifies Medic Personnel in TC3
Authored By: Press Release
Date: 17 June 2022
THE NATIONAL ASSOCIATION OF EMERGENCY MEDICAL TECHICIANS COMMENDS SINCERUS' PROJECT MANAGEMENT
Association lauds Sincerus' Tactical Combat Casualty Care Initiative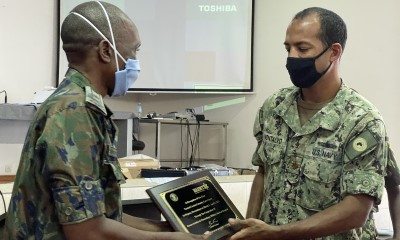 ARLINGTON, VA. – The National Association of Emergency Medical Technicians (NAEMT) commended Sincerus as a "vital partner in building medical capabilities such as Tactical Combat Casualty Care (TCCC)" in a recent letter sent by the organization's Executive Director Pamela Lane. Ms. Lane also highlighted NAEMT and Sincerus' successful collaboration after Sincerus' recent change in project management for the Africa Peacekeeping Program's (AFRICAP's) Tactical Combat Casualty Care (TCCC) Task Order. As such, "communications have significantly improved as Sincerus understands the process that NAEMT utilizes to establish approved NAEMT Training Centers."
"Sincerus understands the vital role that TCCC plays in building a country's security sector," Sincerus President and CEO Glen Schuhmacher stated. "Working collectively with the NAEMT has led to incredible growth, particularly in Mozambique, where we recently certified 31 combat medical personnel in TCCC and established the first NAEMT Training Center in the country. With our flexible business model, we can respond quickly to our partners' needs in challenging locations. This allows us to implement effective programs like TCCC in Mozambique, as well as Burkina Faso, Kenya and Djibouti."
Sincerus is the prime contractor on the AFRICAP III program and is providing training, equipment, logistics, and technical support and construction services to African countries and organizations. This includes systems management, staffing, operation, maintenance, medical support transportation, supply chain management and reporting activities. Sincerus supports three task orders: 1) The Tactical Combat Casualty Course Enhancement; 2) Kenya Counter IED Enhancement; and 3) Armed Forces of the Democratic Republic of Congo's (FARDC) Engineering Capacity Building.
Sincerus will continue to certify combat medical personnel in TCCC, increase capacity of TCCC certified instructors, and launch NAEMT facilities across Africa, while further exploring its work with NAEMT.
About Sincerus Global Solutions, Inc.
Headquartered in Arlington, VA., Sincerus currently operates in more than 20 countries across five continents delivering strategic advisory, training, expeditionary mission support, project management and rule of law capacity building projects – most of which are conducted in remote, challenging locations and complex environments. Throughout its nearly 30-year legacy, Sincerus has operated in 40 countries worldwide. Visit www.SincerusGlobal.com to learn more.
CONTACT: JESSIE LOWRY
JESSIE.LOWRY@SINCERUSGLOBAL.COM