Sincereus Conducts Successful Operational Engagement and Outreach Capacity Training in Uganda
Authored By: Press Release
Date: 30 August 2023
ARLINGTON, VA. — Sincerus understands and respects the vital role of engaging with the local population. This establishes a safe and secure environment — particularly when implementing security sector reform programs as the prime contractor for the U.S. Department of State's Global Peace Operations Initiative (GPOI) in Uganda. Sincerus provides advisory, training, equipment, and technical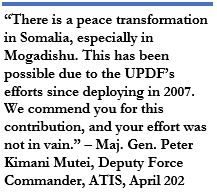 assistance supporting Uganda's critical contributions to the African Union Transition Mission in Somalia (ATMIS). ATMIS is the successor mission to the African Union Mission in Somalia (AMISOM) and reflects the evolving security and political situations. Most importantly, it shifts responsibility for stabilizing Somalia from the African Union to Somali Security Forces by December 2024.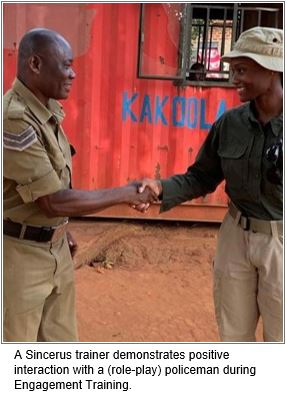 Sincerus' support to this transition includes mentoring and assisting UPDF leadership, staff, and instructor cadre as they provide pre-deployment and specialty skills training such as counter-IED, Combat Medical, Logistics, Civil-Military Coordination (CIMIC), and Operational Engagement and Outreach Capacity Training at the Peace Support Operations Training Centre (PSOTC) in Singo, Uganda.
Operational engagement and outreach capacity training provide knowledge and skills for UPDF Engagement Teams as they interact with the local populations of Somalia. These teams are key to the UPDF's ability to gain the trust, respect, and support of the local populations of Somalia. The engagement teams, bolstered by Sincerus-delivered GPOI training, deploy with the military skills to operate and protect themselves while gaining first-hand information on local populations, issues, challenges, and opportunities. Their work builds valuable rapport and the consent and cooperation of the local populace. These relationships are critical to garnering the insights required of peacekeeping leaders to effectively shape their operational priorities and enhance the overall effectiveness of the ATMIS mission.
For the local population, this means better security and visibility with ATMIS troops. It also sets an example for Somali Security Forces to emulate during and after the transition. When discussing this positive interaction, the acting Force Commander, Maj. Gen. Marius Ngendabanka stated, "It helps to reduce the threat posed by Al-Shabaab, support the capacity building of an integrated SSF and conduct a phased handover of security responsibilities to Somalia."
Sincerus personnel, drawing from their experiences in Iraq and Afghanistan, recognized the importance of engagement training and formulated appropriate scenarios for implementation into UPDF soldier skills training. The training was successful and over the next dozen-plus years, Sincerus has remained a leader in the evolution and expansion of this training. Engagement personnel are now mandated in each mission area and Sincerus is proud to provide necessary and effective training to those troop contributing countries.
About Sincerus Global Solutions, Inc.
Headquartered in Arlington, VA., Sincerus currently operates in more than 20 countries across five continents delivering strategic advisory, training, expeditionary mission support, project management and rule of law capacity building projects — most of which are conducted in remote, challenging locations and complex environments. Throughout its nearly 30-year legacy, Sincerus has operated in 40 countries worldwide. Visit www.SincerusGlobal.com to learn more.
CONTACT: JESSIE LOWRY
JESSIE.LOWRY@SINCERUSGLOBAL.COM