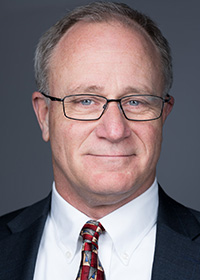 Ron Corkran
Vice President for Programs
Ron Corkran, Vice President for Programs, leads SGS's support to three Department of State and one Department of Justice program. Two of these programs support Africa Peacekeeping, one providing global advisory services (in security sector reform), The Global Peace Operations Initiative (GPOI, formerly ACOTA), Africa Peacekeeping (AFRICAP), and the Global Defense Reform Program (GDRP).
Ron has extensive international experience with a focus in Africa. From 2007 until 2015, he served as a 'Country Manager' (contractor) for the ACOTA program, predominantly in Uganda, but also Nigeria, Ghana, Malawi, Gabon, and Djibouti. That experience centered on planning, preparing, executing, and continually improving pre-deployment training for UN and AU peacekeeping missions across Africa. Since 2015, he served at the Program and Directorate level for Engility and SAIC based in DC. In these roles he has worked to share experiences and best practices between the programs to build host nation capacity and capability in security sector reform and peacekeeping operations.
Prior to his Africa journey, Ron led multiple training teams for MPRI, where he deployed repetitively to Kuwait (Camps Buehring and Arifjan) and Afghanistan (Camps Spann and Bagram AB). In multiple leadership roles, he prepared and executed training for US and Afghan forces preparing for combat operations. His major tasks during that time were training Urban Operations skills for platoons and companies and battle-staff operations at the battalion and brigade level with a particular emphasis on counterinsurgency and the counter-IED fight.
Before his private sector days, Ron served as an Infantry Officer in the US Army. Over 21 years, he successfully led Mechanized, Light, Airborne, and Air Assault Infantry units, in positions of increasing responsibility. On '9/11', he was in command of the 1st Battalion, 187th Infantry of the 101st Airborne Division and led his battalion into combat operations in Afghanistan in 2001-2002. His service also included extensive experience at the Joint Readiness Training Center and a two year exchange tour with the Australian Army. Ron is a Combat and Expert infantryman with Ranger, Master Parachutist, Pathfinder, Air Assault, and Australian parachute qualifications. His decorations include the Legion of Merit, the Bronze Star with 'Valor' device, and the Bronze Star Medal.
Ron's education includes a MBA from Norwich University, graduate of the US Army Command and General Staff College, and a Bachelor's of Business Administration from the University of Mississippi. Ron is a certified Project Management Professional (PMP) and Scrum Master.
Ron presently lives in the Northern Virginia area with his wife Betsy. Their two grown children live in Columbus, Ohio and Sydney, Australia.