Our History
Sincerus is born of a proud lineage. We carry a legacy of expeditionary mission support, security sector reform and advisory missions which began nearly 35 years ago providing mentoring and training of military, police, and other government personnel in more than 40 countries - most of which was conducted in remote, challenging locations and even combat zones. We are true believers in the U.S. national security strategy that advocates for professional, ethical, and competent foreign militaries, police forces, and government agencies - and ultimately advances U.S. foreign policy goals.

Sincerus launched in 2020 after acquiring SAIC's international development portfolio. Our leadership brings decades of experience providing mentoring and training of military, police, and other government personnel in over 40 countries.
Our first incursion into this work occurred in 1992 when the U.S. Department of State (DOS) made its mission to strengthen the former elements of the Soviet Union under the Support to the Newly Independent States program. We coordinated and supervised collection, inspection, shipment, and tracking of relief supplies to the NIS while building former military security forces into civilian-led police forces. Our security sector reform efforts continued for more than 15 years with the award of the International Criminal Investigative Training Assistance Program (ICITAP), enabling us to expand into nearly 30 countries and aiding foreign governments to develop professional and transparent law enforcement and justice sector institutions that protect human rights, combat corruption, and reduce the threat of transnational crime and terrorism.
In parallel, we expanded our training and strategic level advisory programs to include the African Crisis Response Initiative (ACRI), its successor contracts Africa Contingency Operations Training and Assistance (ACOTA), and now the Global Peace Operations Initiative (GPOI). We support the DOS with institutional knowledge, best practices, and lessons learned from successfully delivering capacity-building programs for UN Peacekeeping contributing countries.
Our advisors and mentors work beyond classroom training. We often are embedded into security sector institutions and operational units to offer strategic advisory services, applied training techniques, always re-enforcing lessons learned, and assessing partner's capabilities through our combined assessment frameworks (CAF). We continue the legacy of support today through the GPOI IDIQ, the Africa Peacekeeping Program (AFRICAP) IDIQ, and the Global Advisory Support Services IDIQ in support of the DOS Global Defense Reform Program (GDRP).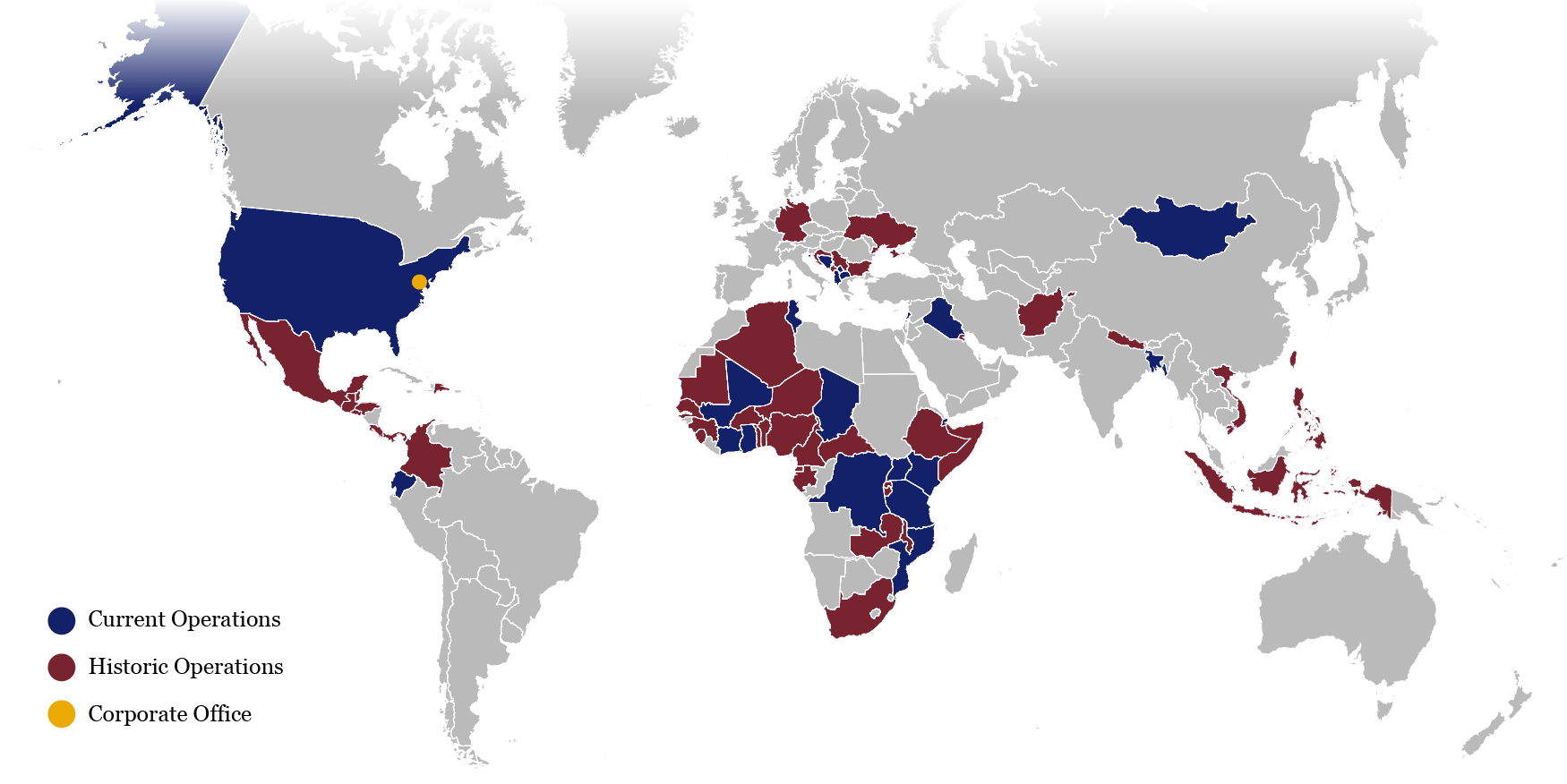 Sincerus has operated in more than 40 countries, and we continue to support global and local programs that span every continent.
Security sector and international development assistance work hand in hand. Sincerus offers a coordinated approach to both. Strong security assistance enhances the success of development activities. We provide our field-based personnel with the necessary administrative and logistical support to successfully execute their institutional capacity-building efforts.
We are proud of the work conducted through the last three decades, and the heritage we are privileged to uphold.